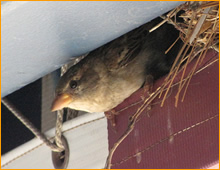 Wildlife Control in Mclean, VA is a common problem we gets calls for on a daily bases. We receive call to manage and handle wild animals on a daily bases and we receive these types of calls all throughout the year. Wildlife control is a specialized service that is offered by our company and requires specialized equipment. We use tools such as Wildlife Tongs, Wildlife loops and specialized lifts that are often very expensive for normal pest control companies to buy. Some of the other areas in Mclean, VA we service are: Everrmay, Langley and River Oaks. these are some of the areas we service in Mclean. We also service the entire Northern Virginia area. Wildlife Control in Mclean, VA is often attempted by pest control companies that do not have the equipment or the knowledge to handle the wild animals that they are trying to control. Animal Control Solutions has been in business for over 20 years handling wildlife in Mclean, VA. We handle all types of Wildlife including but not limited to Squirrels, Bats, Snakes, Raccoons, Skunks and all other wildlife in Northern Virginia.
Residential Wildlife Control in Mclean, VA
Wildlife Control in Mclean, VA is often performed on Residential homes in the City of Mclean. Most of the time this service is needed to remove or control a particular pest animal that has made it home in the attic area of a dwelling or possibly the crawlspace of a home in the city of Mclean, VA. These problems should be eliminated as soon as they are discovered as the problematic wildlife can cause damage to insulation and other exposed parts of your home. How can we say we do wildlife control better in Mclean, VA? We have all the necessary equipment to handle any pest animal problem and we specialize in removing wild animals in Mclean, VA and all other parts of Northern Virginia.
Wildlife abounds in Mclean, VA
with the nation's capital of Washington DC, being so close, Mclean, VA is a hustling and bustling community. Traffic Jams and Dinner parties, festivals and parades are a every week occurrence in Mclean, VA. Most people do not stop and take a look around; There is wildlife everywhere in Mclean, VA. Before all the homes and buildings were built Mclean was a quiet town located by the river. With squirrels and Raccoons playing by the river and out In the fields. Now those fields are gone, and so is the places for wild animals to live. Now they must live where they can in Mclean, VA. And a lot of times those places for those animals to live are in close to where you live.
Removing wildlife in Mclean, VA
When a animal human conflict occurs, This is where a professional wildlife control agent get involved. The city of Mclean, VA and the county of Fairfax Do not handle nuisance wildlife control calls anymore. They simply refer you to the private businesses that specialize in nuisance wildlife control in Mclean, VA. These are chargeable services and all wildlife control companies get paid for controlling nuisance wildlife in Mclean, VA. Don't let the Wild Animal of Mclean, VA take over your home give us a call to handle all your Mclean, VA Wildlife Control needs at 703-881-3170. Serving Mclean, VA and all surrounding areas of Evermay, River Oaks and Langley, VA