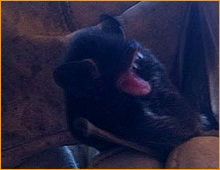 Cincinnati Bat Removal and Bat Control experts of Animal Control Solutions provide complete services to get rid of bats in homes and businesses throughout Hamilton County Ohio. Bats in attic, bats in house, bats in churches and other bat infestations are common problems found throughout Cincinnati Ohio areas. Bat removal require special equipment that often includes man-lifts and other high reaching platforms along with specialized equipment including state-of-the-art vacuum systems that are designed specifically for the removal of bat guano from attic areas of homes and buildings. No matter the type of bat problem you may have Animal Control Solutions experts provide complete Bat Control Solutions throughout Cincinnati Ohio.
Cincinnati Bat Control
There are several different methods of removing and controlling bats from your Cincinnati OH area home and attic. One such method, bat exclusion, is done by sealing up all areas of the home in which the bats have access to the attic portion of your house. After the attic area is sealed and all possible entry points have been eliminated the Cincinnati OH bat removal experts will then place an exclusion tube in the proper location. This will let any bat that remains inside the attic portion of your home out into the world. However the sealing and the one way door the professional bat removal agent has installed will keep the bats from possibly returning. Which is the most efficient way to handle a Cincinnati bat removal problem. If you choose a bat removal company in Cincinnati, OH that does not have the proper equipment, DO NOT ALLOW THEM TO WORK ON YOUR HOME!!!
Bats in my attic, Cincinnati, OH
The most common call we get in the spring and summer months is for the control and removal of bats in the attic for homes and businesses in Cincinnati Washington. Bats in the attic are a very serious problem that should be taken care of as soon as it is discovered. Bats love the location of Cincinnati OH and the natural food supply for the bats is almost unlimited. When you discover the bats in your attic, you should look to have a bat exclusion done to the attic portion of your home. After the bat exclusion is done and the bats have been eliminated from the attic, you should have your attic professionally cleaned and vacuumed or a bat guano cleanout.
Bat Guano Cleanup in Cincinnati, OH
Bat guano cleanup typically happens after a bat exclusion has been performed and the structure has been sealed up. The bats have been excluded and after several days the bat guano cleanup should take place. Bat guano cleanups can be done several different ways and there are only a few companies in Cincinnati OH area that know how to remove bat guano safely. This is the most important part of the whole process. You need to have the bat guano cleaned up for health and sanitary purposes. Bats are a wonderful animal to have around your home, just not in your home! Call to schedule a free bat inspection today in Cincinnati OH. Bat Control and Removal is a problem you don't have to live with! Contact Cincinnati Bat Removal and Bat Control experts to solve all your bat problems, (540) 371-4288.
We also provide complete Cincinnati Wildlife Control and Animal Removal services throughout Hamilton County Ohio.