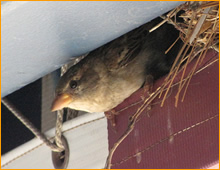 Alexandria Animal control is a common call we get from the general area of Alexandria VA. We DO NOT deal with any Dog or Cat related problems. All of these calls should be directed to the Alexandria Animal Control office at 703-746-4774 or they can be visited at 4101 Eisenhower Ave Alexandria, VA 22304. Alexandria Animal Control office can handle all Dog and Cat problems for the city of Alexandria, VA. The County Animal Control office can be reached by calling 703-691-2131.
Alexandria Animal Control & Wildlife Removal
Animal Control Officers will respond to the following wildlife encounters/emergencies:
In a home or business that poses a threat to humans or pets
Between humans or domestic animals that could result in rabies exposures
When wildlife shows signs and symptoms of rabies
When wildlife poses a threat to humans or pets
When wildlife appear sick or injured
Fairfax County and Alexandria Animal Control Officers DO NOT respond to the following Nuisance Wildlife problems:
Calls reporting wildlife nuisance problems
Problems with wildlife that does not pose a threat to humans or pets
Examples of Wildlife Conflicts that Animal Control Offices DO NOT deal with
Wild animals living under decks, storage sheds or porches
Wild animals living in populated areas
Wild animals in attics, basements, garages and sheds
Wildlife causing damage to gardens, flower beds or shrubs
Call Animal Control Solutions of Alexandria for removal of Nuisance Wildlife Pests and Animal removal services at 703-881-3170. We are the leader in Nuisance Wildlife Removal and Wildlife Control services throughout Alexandria and other surrounding Northern Virginia areas. Animal Control Solutions has been serving Alexandria VA for over 20 years and are the industry leaders in providing Safe, Effective, Wildlife Control services throughout Alexandria, VA.
Squirrel Control Alexandria VA
Squirrels have a advantage of the very close housing located in Alexandria and are often seen jumping from rooftop to rooftop and running back-and-forth on the power lines. Squirrel Removal and Squirrel control in Fairfax County is increasing and should be handled as soon as a squirrel problem is discovered in your home or attic. Do not let the squirrels stay in your attic!
Raccoon Control Alexandria VA
Raccoon removal in Alexandria, VA is the second largest problem that we as an animal removal company deal with in Fairfax County. Raccoons are very clever animals and they have learned to adapt very well to the suburban environment of Alexandria VA. Raccoons will dig through trash, dig up your yard and destroy practically anything to obtain food. Raccoons in Alexandria County will get into the attic of your home and do a large amount of damage in a short period of time. Raccoons should not be allowed to stay in your Alexandria attic and should be removed as soon as they are discovered.
Bat Control Alexandria VA
Bat Control in Alexandria, VA has been on the rise for the last seven years. Bats have been found in the Alexandria County Courthouse, Alexandria County churches and many houses throughout the entire City of Alexandria. One of the most common problem associated with bats in your attic is the large amount of bat guano that builds up in your attic over a period of time. Bats should not be allowed to stay in your attic. As soon as you discover you have bats in your attic, a bat removal and bat control professional should be called- especially an expert at Bat Exclusion.
Skunk Control Alexandria VA
Alexandria, VA skunk Control is another common animal that is found in Fairfax County and the complaints that we receive are numerous. The most common problem associated with skunks in the city of Alexandria is that the skunks will dig under the stoops or steps of the house to gain access to a decent place to live. This becomes a problem if a homeowner has a dog and the dog and the skunk meet. The skunk will spray the dog. The one that usually wins is the skunk. Never try to deal with a skunk removal problem yourself. Always contact a professional skunk removal expert. These are just a few of the more common animal removal calls we deal with in Alexandria County and Alexandria City. We also deal with other animal removal problems related to rats, mice, birds, groundhogs, foxes, coyotes, beavers and any wildlife that is found in the State of Virginia.
We are a privately held company and DO NOT deal with dog or cat calls. All calls related to dogs and cat should call to Alexandria Animal Control office at 703-746-4774 or they can be visited at 4101 Eisenhower Ave. Alexandria, VA 22304.